Series I'm Following-Issues
Kaptara by Chip Zdarsky and Kagan McLeod
I think Kaptara has a lot of creativity and a lot of promise, but after only three issues, it's still finding its footing. It's funny, but I could use a few more serious moments I think. Or something. I don't feel particularly invested in it at the moment as I feel so little for the characters. But it's still early.
Saga by Brian K. Vaughan and Fiona Staples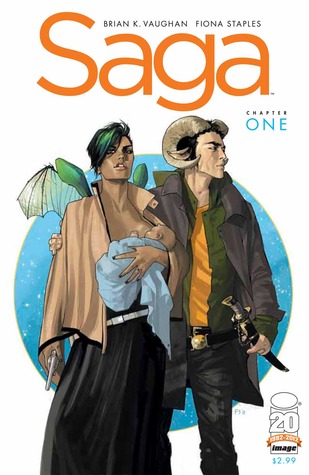 The fifth arc of Saga ended at the beginning of July and it was just as gut-wrenching as every other finale in this series so far. Saga was the first comic book I ever read (a year ago now, which is crazy, I still feel like a total newbie) and it continues to be my favorite. It balances humor and weirdness and action and emotion perfectly.
Chew by John Layman and Rob Guillory
Issue #50 released at the beginning of July, concluding the tenth arc of this planned twelve arc series, and I can't even begin to explain how epic it was. I'm dying for the next installment because the epilogue little teaser in this was way too much.
We Stand on Guard by Brian K. Vaughan and Steve Skroce
I'm not even caught up on Brian K. Vaughan's backlist, but I knew I had to run out and get this. I usually don't get hooked by one issue of anything, but this did it. Unusual conflict, major apocalypse, ragtag band of revolutionaries. I was sold.
Injection by Warren Ellis
This one is really beautiful to look at. I read the first three issues all spread out over a few weeks and I'm kind of lost, but that's one of those things that is probably my fault, not the story's.
The Fiction by Curt Pires and David Rubin
Read the first issue of this so far and I quite enjoyed the premise (getting sucked into the story! Every reader's wish come true!) and the action of the first installment. Definitely going to continue with it.
Trades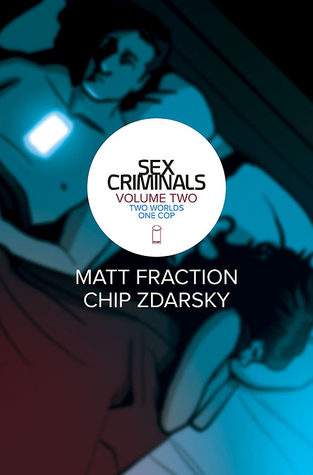 Sex Criminals Vol 2: Two Worlds, One Cop by Matt Fraction and Chip Zdarsky
You wanna know something pathetic? I only just now got the reference in the title. Moving on.
This volume slowed down a bit, taking time to develop characters. The plot advanced a lot more slowly than I might have liked, but it had some beautiful serious moments. It also, of course had some unbelievably hilarious moments as well (Suzie at the gynecologist and The Wicked and The Divine parody are coming to mind first here)
Ms. Marvel Vol 3: Crushed by G. Willow Wilson, et. al.
This volume somehow made me fall in love with this series; I was pretty indifferent about it before. But this was adorable and fun. It seems to have found a sweet spot for its irreverent charm and I'm really looking forward to following it more closely in the future.
Y The Last Man Deluxe Edition: Book 5 by Brian K. Vaughan, Pia Guerra, and Jose Marzan Jr.
It took me almost a year, but I finally finished this series. I stopped halfway through this volume because I didn't want it to end, but when I finally got there, I really liked the conclusion. Even though it hurt a little bit.
East of West Vol 3: There is No Us by Jonathan Hickman and Nick Dragotta
I feel like I'm finally starting to get/get into this series. I want to reread it and try to understand it a little bit better before I pick up volume 4, because I think it is going to go some very interesting places and be worth the effort.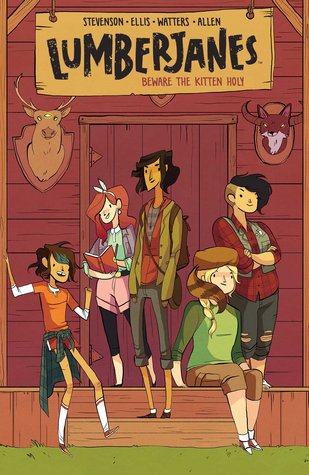 Lumberjanes Vol 1 by Noelle Stevenson, Grace Ellis, and Brooke A. Allen
This was really cute. I love the colors and the go-girl, strong feminist attitude of the whole thing. It also had its moments where it was funny, but it had more where I thought it was trying way too hard to be funny. I do really like most of the characters, distinctive and fun, but I hope they get some more depth to their personalities as the series goes on. I'll pick up the next volume when it's out and see where it goes.
The Wicked and The Divine Vol 2: Fandemonium by Kieron Gillen and Jamie McKelvie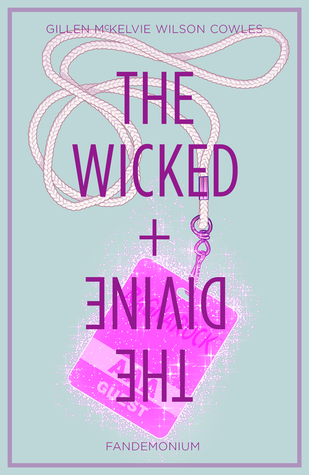 This is another series that has a great concept and is really beautiful to look at, but seems to be missing something. This volume turned around at the very end and had an awesome, wtf cliffhanger ending, but the rest of it was kind of slow and repetitive in theme.
What are you reading? What should I be checking out? With Saga and Chew on hiatus I'm in need of some more amazing series to be excited about.