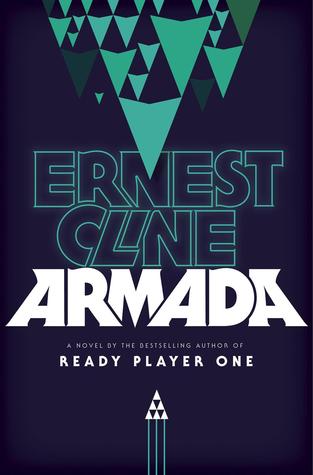 After highly enjoying Wil Wheaton's audio recording of Cline's first novel, Ready Player One (One of my Top Ten I read in 2014) I knew I had to go for the format again with Cline's Armada, which, like it's predecessor, is laced with biting dark humor and loaded with geek-culture references. This one pays homage to space and alien invasion sci-fi, leaning hard on tropes and plotlines found in classic works like Stark Trek and Ender's Game, but the humor and pacing kept me highly entertained. 4/5 stars.
Synopsis
When Zack Lightman sees a spaceship straight out of his favorite video game, Armada, fly over his high school, he thinks he's finally lost it.  But it turns out the invasion is happening and the game he's mastered was simply training for the fight to save Earth.
Review
While I have a few negative things to say about it after analyzing it a bit, taken as a whole, I found this novel to be undeniably fun. I listened to the audiobook in one day while cleaning the house, and anything that makes me laugh out loud while scrubbing my kitchen sink is definitely funny. The seriousness of the alien invasion and battles that follow is addressed as well, in ways both funny and heartfelt as characters face life or death situations with humor and then make and deal with sacrifices and the consequences of global war. It's not the biggest part of the whole story, but it's definitely there and it keeps this story from being completely off the wall ridiculous, as I think it could have been otherwise.
Somehow I managed to stay engrossed in this, even though I did find the plot twists to be rather predictable. There's some early foreshadowing that is definitely laid on a bit too think, but overall, I liked watching Zack navigate everything. The world was built well, I thought he was a character likable enough to root for and his reactions to big and little situations were very entertaining. However, I do think that there were some missed opportunities in the relationships and character building. What we got was all great, but there was one situation in particular where I felt a conflict was glossed over for the sake of moving the plot forward at a climactic moment. I can understand the necessity of keeping the pace up, but the omission took away from the reality of the situation and flattened out a character who showed early signs of being quite interesting.
Although it's not the most thought-provoking, it's definitely smart and fun without being too lighthearted, given the seriousness of the situation. I continue to be a fan of Ernest Cline's and I look forward to seeing what he comes up with next.