I've been meaning to make these every month mid-month but I missed last month and now I'm backlogged after two months of heavy comic reading. So brace yourselves for a very lengthy catch-up, but if you find yourself needing more of a description of each book, just click on an image to be redirected to it's Goodreads' page.
This covers just TPB's I've read, though I have also been keeping  up on single issues of Alex+Ada and Saga. All I have to say about those series is, as usual they're great, go read them if you haven't!
The Infernal Devices Manga: Clockwork Angel, Clockwork Prince, Clockwork Princess by Cassandra Clare and HyeKyung Baek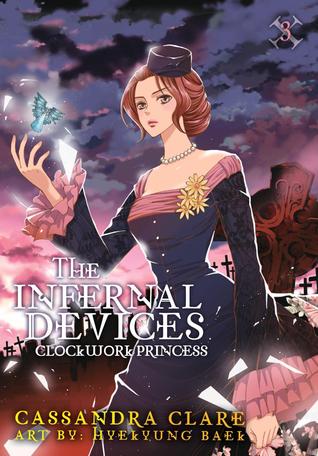 The Infernal Devices is one of my very favorite book series and this was a quick and lovely medium through which to revist it. I wouldn't recommend diving into this if you haven't read the source material, or at least City of Bones, since it would be pretty confusing without some background in the lore of the Shadowhunter world. That said, this was just as heart wrenching and entertaining by turns as the trilogy of novels and I thoroughly enjoyed it.
Serenity: Leaves on the Wind by Zack Whedon, et. al.
If you loved Firefly the television series and have somehow missed these, it's definitely something you should pick up. This fourth installment in the graphic novel series picks up after the events of Serenity, the movie, and  is a direct sequel to that plot line. I loved another glimpse into the world, but I thought that this volume, despite it's hefty size, was rather rushed. Should have been a full season of television for sure. I also thought the art in this was a little odd as certain characters features seemed to blur into one another (Kaylee and Inara looked alike, as did Mal and Simon). But, like I've said about previous installments in this series, it's not to be missed for fans of the show, and if you're not a fan of the show, you clearly just haven't watched it yet and for that I feel sorry for you.
East of West Vol 1: The Promise and Vol 2: We Are All One by Jonathan Hickman and Nick Dragotta
If any of you have read this and you have any idea what the hell is going on, then I applaud you, because I definitely do not. I think it's a beautiful book, art-wise. The little I understand of the story is intriguing. However, I don't think deliberately hiding things from the audience that the characters understand about the culture and history of the world serves as a good mystery plot device. There's been very little exposition and I find that extremely frustrating. I will probably give this series another volume to get me into it, because it is a big world and a big story, and I liked volume 2 more than volume 1, but 15 issues ought to be enough to have some understanding of the story and if it's not, then I'll probably walk away from this one.
Black Science Vol 2: Welcome, Nowhere by Rick Remender, Matteo Scalera, and Dean White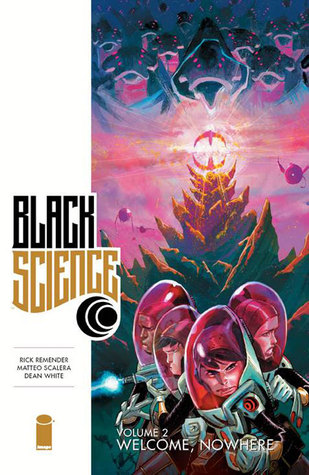 This book is rich with color in its illustrations and it's absolutely beautiful to look at. I was, however, a bit disappointed in this volume's plot. It felt like five issues of filler, with no real character development. I think all of the characters are weak in this book, with no personality beyond a cliche (the funny black friend, the gruff Russian, the surly teenage daughter, etc.) and I was hoping they would grow in this second arc, but no luck. But it's a gorgeous book, with an interesting plot, even if this installment didn't delve any further than some good action scenes. I'll continue on with it in hopes it will develop with some more depth, which I think would make it a favorite of mine, given it's other strengths.
Deadly Class Vol 2: Kids of the Black Hole by Rick Remender, Wesley Craig, and Lee Loughridge
Deadly Class is quite dark but extremely fun. I think this volume got a bit too mired in teenage angst, which is kind of the point, but fell a little flat to me. Definitely a series I'll be continuing, it's got a very distinctive atmosphere, the plot kept me guessing and the characters are growing on me issue by issue.
The Sword Vol 1: Fire and Vol 2: Water by Jonathan Luna and Joshua Luna
I love Jonathan Luna's art style, I'm such a big fan of Alex+Ada I had to pick this one up for that reason alone. I like this book, but it feels extremely formulaic and standard–true to the revenge story plotline. Since I'm already halfway through, I'll probably go ahead and finish this eventually, but knowing where it's going doesn't put me in a huge rush.
Chew Vol 2-9 (and Issues #46-#49) by John Layman and Rob Guillory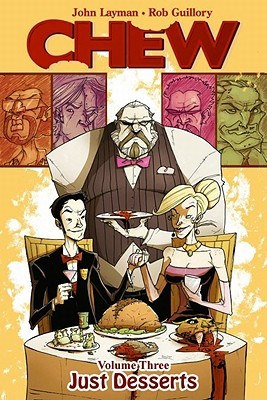 So I binge read volumes 4-9 in just over 24 hours after getting totally hooked by volume 3 and I'm over the moon about this series. It's so weird and so dark and really quite gross (at least until you get used to it–by volume 7 the toe munching was not phasing me in the slightest). It starts off as an excellent crime drama and becomes more and more personal and heart-felt as the series goes on. It doesn't rest either, expanding the cast, tying together disparate plot lines, and crafting complicated characters that are neither good nor bad. This series is vying hard with Saga as my favorite series of the moment and now that I'm all caught up I'm eagerly anticipating each new installment.
Y The Last Man-The Deluxe Edition-Book 2-4 (Volumes 3-8) by Brian K. Vaughan, Pia Geurra, et al.
It's been a weirdly long time since I finished the first book of this series and I have no idea why I've waited so long. This series is very smart, highly thought provoking, and also very funny. It's constantly evolving and changing and I'm excited to see where it goes with the conclusion.
Ms. Marvel, Vol 2: Generation Why by G. Willow Wilson, Jacob Wyatt, Adrian Alphona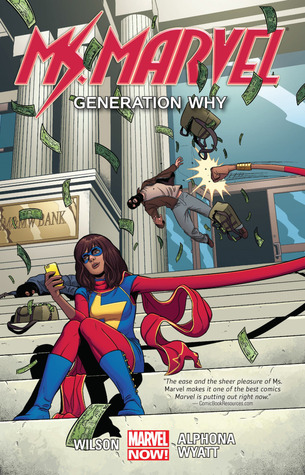 This series seems to be quite popular and highly praised, I see it making the rounds among the graphic novel readers on BookTube, etc. and I do enjoy it. Kamala is a great character: fun, headstrong and determined, and of course putting a Muslim-American girl front and center is wonderful. I don't even read other Marvel titles and I thought the Wolverine cross-over issue was extremely fun. Hilarious, even, as the new girl and the old hat were forced to work together. However, I wasn't a huge fan of the main plot of this arc. I hope it doesn't give too too much away to call it too Matrix-y. It was also kind of preachy in this needless way. I don't know. Superheroes aren't so much my thing anyway, and so I don't think I'll be sticking with this one for much longer. (But proofreading me from the future would like to add that I did just spend the $15 on volume 3, so apparently I will be checking at least a few more issues out)
Sex Criminals, Vol 1: One Weird Trick by Matt Fraction and Chip Zdarsky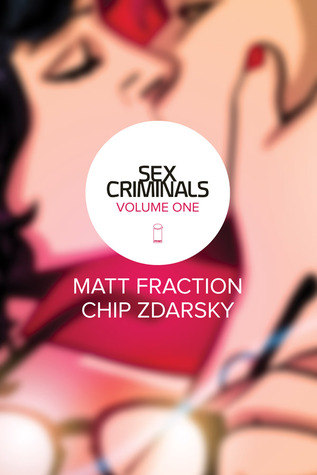 I heard a lot of great buzz about this from everyone up to and including the cashier I purchased it from at Barnes and Noble (he also got Rob Guillory to sign his Chew #1 and loves Saga–we were fast friends) and it was all well deserved. This was a hilarious and overall solid story. It dove right in, and somehow magically explained everything while keeping the plot pace on track. This is definitely a must continue as soon as possible sort of book for me.
TL;DR? Be sure to check out Chew, Sex Criminals, Y: The Last Man and Deadly Class.