More and more these last few months I've gotten more into comics. I used to include little mini-reviews of what I'd checked out with my monthly book wrap-up posts, but as I read more and more comics each month, those posts get longer and longer and I thought it would be fun to split them out, so those of us who want to talk about comics have our own space to do so. Without further ado, here's what I read in March and this first half of April:
Trees Vol 1 by Warren Ellis and Jason Howard
I liked the idea of this a lot more than I actually liked it. It follows a bunch of characters all over the world, which will probably pay off eventually, but in these opening issues is just really confusing. I couldn't keep everyone straight and I had a really difficult time trying to understand what was happening overall. I'll probably give the second volume a go once it comes out as a trade paperback (I'm finding I'm a trade fan anyway and something like this I don't think I'll ever be able to keep the story straight month-to-month even if I wasn't) and see if I can get into it more.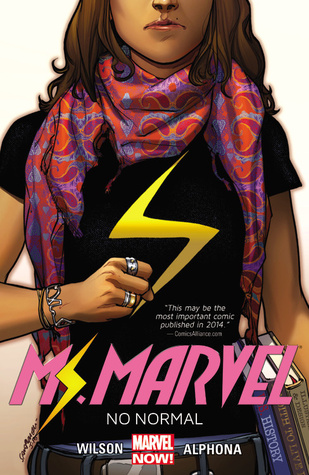 Ms. Marvel Vol 1: No Normal by Willow G. Wilson and Adrian Alphona

I don't know that I'll ever be a superhero comic lover, but I enjoyed this quite a bit. It's funny and fast-paced–even though not a whole lot happens in this one–and has art that I enjoy, so I'll be sure to continue on with this series.
Serenity: Better Days and Other Stories by Joss Whedon, Zack Whedon, Will Conrad, Michelle Madsen,Julius Ohta, Patton Oswalt
I love the Serenity graphic novels primarily because it's like having more Firefly, but it really feels like just a consolation prize…I'd rather have the show. This one was okay. I jaw-dropped at one point at the end (that you'll know about if you've read it) but the whole distraction story leading up to it was boring. And then there were some moments that just seemed out of character. Kaylee at one point was like right in the middle of the action, which is not like her at all. This one was weird, but I'm having fun with it, and I'm not likely to pass up the rest.
Serenity: The Shepard's Tale by Joss Whedon, Chris Semnee, Dave Stewart, Stever Morris, and Zack Whedon
I enjoyed the layout of this one, moving backward in time from the Shepard's death in the Serenity movie, and was ultimately satisfied with the story I'd been eager to know, but I thought it felt a little bit rushed. You have to do a lot of reading between the lines to discern things about this world and the character's relationship with it and it's not a situation where I really like working hard to figure out what should have had time to be expository.
Saga #25-#27 by Brian K. Vaughan and Fiona Staples
Saga was on hiatus for awhile and I was completely oblivious to the fact that it came back over several months ago. Luckily I stopped by the Image section at the comic book store to see if there was new Alex+Ada and spotted an unfamiliar Saga cover a few rows down. (And what a beautiful cover it is…#25 and #26 are probably two of my favorites.) The books themselves were fabulous as always, of course. The stakes are high, the action is amazing, and I have no clue what will happen next.
Chew Volume 1: Taster's Choice by John Layman and Rob Guillroy

I was having a lovely four-star kind of time with this during issues one through three, enjoying the creative concept, the dark humor, the detailed, but easy on the eyes art style, until I hit issue four, which didn't make any sense to me, and left me confused and kind of put off. But then it rebounded spectacularly with issue five, the conclusion of this volume. So intense, big action, came back to the plot of the first three chapters and tied everything together. I'm still in awe and I can't wait to get my hands on volume two and see where it goes. (Fun story: my comic shop only had volumes 1 and 5-9 when I went back there to get more….and already on order but ten days out is not acceptable, my friends!)

Deadly Class Volume 1 by Rick Remender, Wesley Craig and Leigh Loughridge
As usual with the first few issues of a book with an expansive cast, I felt a lot lost. But there's a really cool, dark but funny atmosphere to this that seems to capture the angst of adolescence in a universal way while staying rooted in the 1980's. It's a lot violent, but it all fits with the story and the action moves along at a break-neck pace. I've already bought volume 2 and I'm looking forward to this being yet another favorite for me. Definitely one to check out if you have a penchant for high school drama and a very dark sense of humor.
And of course, since I'm new to this whole scene, I'm always looking for recommendations! Especially from other publishing companies, I seem to always be drawn to Image titles, but I'm sure there's more great stuff out there!