This fun little end of the year survey is hosted at The Perpetual Page Turner. I skipped some questions and modified a few more, so it's good to go check out Jamie's page if you want to fill out the official survey for yourself. I did this last year too and traditions are fun so here we go:
1. Best Book You Read In 2014?
I did a whole post on my top ten! Number one is The Way of Kings by Brandon Sanderson
 2. Book You Were Excited About & Thought You Were Going To Love More But Didn't?
 I have several for this (and let the cheating begin!):
Gone Girl by Gillian Flynn. I sorta kinda liked this, but I do not understand the hype.
I had a very similar "what the eff was everyone raving about?" feeling about We Were Liars by E. Lockhart.
And Mortal Heart by Robin LaFevers let me down a bit. Again, it wasn't bad, but I don't think it holds its own against the early books in that series.
 3. Most surprising (in a good way or bad way) book you read in 2014? 
Obsidian by Jennifer L. Armentrout. It's rare for me to get into paranormal romance these days and the Lux series is pretty good overall (thus far, I'm only through book 2/5).
 4. Book You "Pushed" The Most People To Read (And They Did) In 2014?
If I Stay by Gayle Foreman, I suppose. I make the friends I go to movies with read the book first.
 5. Best series you started in 2014? Best Sequel of 2014? Best Series Ender of 2014?
 The Stormlight Archive (the series The Way of Kings kicks off), Cress by Marissa Meyer, and City of Heavenly Fire by Cassandra Clare
 6. Favorite new author you discovered in 2014?
Brandon Sanderson. Question six and I've already repeated myself 3 times.
Also Gayle Foreman. Also A.S. King. It was a good year in author discovery for me.
7. Best book from a genre you don't typically read/was out of your comfort zone?
Saga by Brian K. Vaughan and Fiona Staples. Weird to think I had never read a graphic novel six months ago. 
 8. Most action-packed/thrilling/unputdownable book of the year?
 Probably a Heroes of Olympus book…let's go with House of Hades
 9. Book You Read In 2014 That You Are Most Likely To Re-Read Next Year?
Maybe Blue Lily, Lily Blue by Maggie Stiefvater? I really want to read the whole Raven Boys series before the last book comes out.
10. Favorite cover of a book you read in 2014?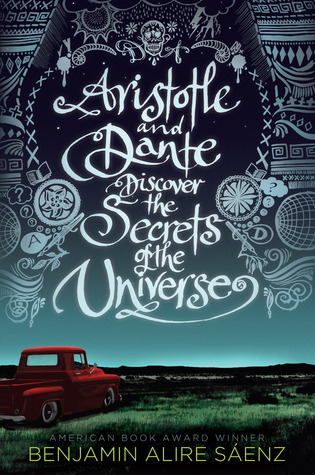 Aristotle and Dante Discover the Secrets of the Universe. And the book is even better than the cover
11. Most memorable character of 2014?
Enzo from The Art of Racing in the Rain. Dog narrators: they stand out.
 12. Most beautifully written book read in 2014?
Ignite Me by Tahereh Mafi. She's a marvel.
13. Most Thought-Provoking/ Life-Changing Book of 2014?
I'm going to go with Rosewater (And Then They Came for Me) by Maziar Bahari and Aimee Molloy. Something about that one just stuck with me.
 14. Book you can't believe you waited UNTIL 2014 to finally read? 
 Legend by Marie Lu
 15. Favorite Passage/Quote From A Book You Read In 2014?
I got really into the liked quotes feature on Goodreads this year, so there are a lot to choose from, but this one by Tahereh Mafi in Ignite Me is just too good:
Words, I think, are such unpredictable creatures.

No gun, no sword, no army or king will ever be more powerful than a sentence. Swords may cut and kill, but words will stab and stay, burying themselves in our bones to become corpses we carry into the future, all the time digging and failing to rip their skeletons from our flesh.
16.Shortest & Longest Book You Read In 2013?
 Shortest (Not a graphic novel or novella): Tuck Everlasting by Natalie Babbitt-144 pp
Longest: Words of Radiance by Brandon Sanderson-1,087 pp
 17. Book That Shocked You The Most
All of the Mistborn books. The Hero of Ages the most though.
18. OTP OF THE YEAR (you will go down with this ship!)
(OTP = one true pairing if you aren't familiar)
And I will close my eyes and surr–wha? Sorry. I'm back.
Magnus+Alec from the Mortal Instruments series is a perennial favorite. Also loved Vin+Elend in the Mistborn trilogy 
19. Favorite Non-Romantic Relationship Of The Year
I think all of the relationships in the Raven Cycle by Maggie Steifvater are spectacularly crafted. I particularly enjoyed Blue and Ronan in Blue Lily, Lily Blue.
20. Favorite Book You Read in 2014 From An Author You've Read Previously
I suppose it would have to be The Ocean at the End of the Lane. I'd read Neil Gaiman before, but it had been a few years and it was great to be reminded of how awesome he is.
21. Best Book You Read In 2014 That You Read Based SOLELY On A Recommendation From Somebody Else/Peer Pressure:
The Way of Kings! Never even heard of it until a coworker suggested it.
 22. Newest fictional crush from a book you read in 2014?
 I want to go to a Brandon Sanderson book again, but let's mix it up and talk about Willem from Gayle Foreman's Just One Day and Just One Year. I fell in love with him and with the idea of travelling to Amsterdam.
23. Best 2014 debut you read?
 I don't know if I read one, I don't keep track of that sort of thing…Rebel Belle by Rachel Hawkins is a promising new series, but I know it's not Rachel Hawkins' debut book.
24. Best Worldbuilding/Most Vivid Setting You Read This Year?
 This is another question begging for a Brandon Sanderson Answer, but let's instead go with the OASIS and the dystopic futuristic world in Ready Player One by Ernest Cline.
25. Book That Put A Smile On Your Face/Was The Most FUN To Read?
 The novella Just One Night by Gayle Foreman is the most joyful thing in the world. The Course of True Love and First Dates by Cassandra Clare, Maureen Johnson, and Sarah Rees Brennan was a similar exercise in wish-fulfillment that was almost too much happy.
26. Book That Made You Cry Or Nearly Cry in 2014?
 Most years I only have one answer to this but either I'm getting soft or these books are just that good at tear-jerking:
–This Start Won't Go Out by Esther Earl and Co. (multiple episodes of full on sobbing)
–The Hero of Ages by Brandon Sanderson (some tears and a sob or two)
–If I Stay by Gayle Foreman (welled up eyes)
27. Hidden Gem Of The Year?
 Stolen by Lucy Christopher
28. Book That Crushed Your Soul?
Let's talk about The Hero of Ages again shall we?
But also Saga Vol. 4. I read this as it released in single issues and I still don't think I'm over the final panel of Issue #19, which I read like 3 months ago. 
29. Most Unique Book You Read In 2014?
The Slow Regard of Silent Things by Patrick Rothfuss had no plot and no dialogue and it was still really good.
P.S. I can already tell you that the answer to this question next year will be S. by Doug Dorst and J.J. Abrams, which I'm slowly working through right now. It sounds really gimmicky but it's actually really entertaining and profound.
30. Book That Made You The Most Mad (doesn't necessarily mean you didn't like it)?
I got really frustrated in a bad way with both Black Ice by Becca Fitzpatrick and The Elite by Keira Cass.
1. New favorite book blog you discovered in 2014? 
I don't remember what I discovered this year vs last, and I've been such a terrible blogger the last few months that I haven't found anyone new in a while, but two of my favorite (and somewhat lesser known, I think) bloggers are From A to Z books and Cheap Thrills.
2. Favorite review that you wrote in 2014? 
I find that my best reviews are when I sit down not quite sure how I feel and wind up working it out; like in my review of Proxy by Alex London.
3. Best discussion/non-review post you had on your blog?
Technically, this was part of a review, but I opened my Vampire Academy Movie Review with a scathing rant about people who hate teen girl movies only because they're teen girl movies that I'm pretty proud of.
4. Best event that you participated in (author signings, festivals, virtual events, memes, etc.)?
The Bout of Books read-a-thons were really fun.
5. Best moment of bookish/blogging life in 2014?
Moving all my books to my new apartment! (Kidding! My family hates me now!)
I post all my Goodreads reviews to my personal Facebook page and it feels like no one ever "likes" them or anything, so I figure I'm just annoying people, but an old acquaintance from high school asked for a recommendation the other day and that was pretty great.
7. Most Popular Post This Year On Your Blog (whether it be by comments or views)?
I don't carry a huge following, so it's really only read a thon and meme stuff that I link up that gets more than one like and the occasional comment or two. And the most popular of those (I think) was the Top Ten Tuesday post I did a few weeks ago on the Top Ten Books of the year.
8. Post You Wished Got A Little More Love?
All of them? Kidding again, reviews in general. They take a lot of time and they're usually viewed least.
9. Best bookish discover (book related sites, book stores, etc.)?
I now live much closer to an independent bookstore I've loved since I was a kid, which is fun. Not for my wallet, but for me.
I also placed my first BookOutlet order this year and have enjoyed that site a little too much
10.  Did you complete any reading challenges or goals that you had set for yourself at the beginning of this year?
I read the 100 books I set on the good old Goodreads challenge. I failed rather horrifically at reducing the size of the pile of books I own but have not read (see question #9).
1. One Book You Didn't Get To In 2014 But Will Be Your Number 1 Priority in 2015?
 Outlander by Diana Gabaldon. Keep hearing great things and I've owned it for over a year now and still haven't picked it up.
2. Book You Are Most Anticipating For 2015 (not a sequel)?
A Darker Shade of Magic by V.E. Schwab
 3. Series Ending/A Sequel You Are Most Anticipating in 2015?
 The Ruby Circle by Richelle Mead! It's only like a month away, but I need it now.
4. One Thing You Hope To Accomplish Or Do In Your Reading/Blogging Life In 2015?
 Start writing full reviews again. Post more like 3-4 times a month instead of once every three months like I did the last half of this year.