Top Ten Tuesday is a weekly meme hosted by The Broke and The Bookish. This week we're to list our favorite books of 2014, which was exceedingly difficult (as always):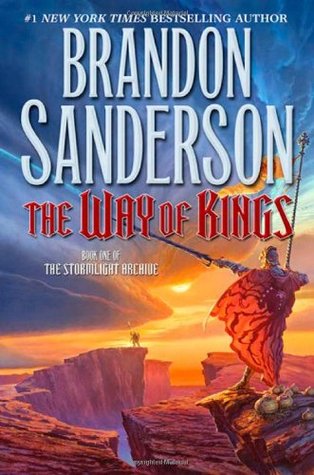 1. The Way of Kings by Brandon Sanderson
The kickoff to this fantasy epic and its sequel, Words of Radiance, gave me the book-hangover to end all book-hangovers. I finished Words of Radiance in the first week of July and to this day, I still pick up one of them pretty much every day. I love the world that much. And I love Sanderson's writing so much that I took a quote from this book and painted it on a canvas and stuck it on my living room wall. (proof). I'm just a tad obsessed.
2. Mistborn: The Final Empire by Brandon Sanderson
Yes, Brandon Sanderson again. The Mistborn trilogy is a masterpiece. If you like fantasy even a little bit, you need to check it out, especially since I think it's probably easier to get into this than it is The Way of Kings. Also, if you're a dystopian fan, this is a must read as it explores a dictatorship, a rebellion and what comes after it.  It also doesn't hurt that this has one of my favorite romance plot-lines of the year. It has everything I at least could ever want in a story and executes extremely well.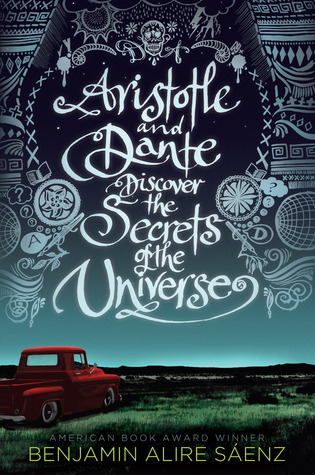 3. Aristotle and Dante Discover the Secrets of the Universe by Benjamin Alire Saenz
So spectacular. This book is written in such a simplistic style, and yet it conveys so much. It's a diverse book, with a solidly formed, relatable main character. Reading Ari made me remember what it felt like to be a teenager, for all that my actual life and experiences were so different from his.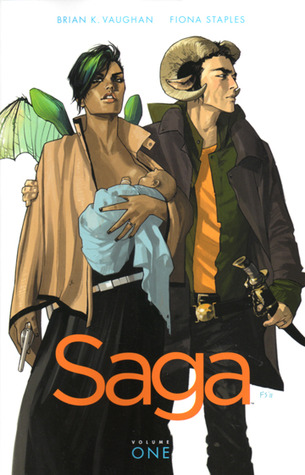 4. Saga (I think Vol. 2 was my favorite, but it's all good) by Brian K. Vaughan and Fiona Staples
I heard people heaping praise on Saga and decided, somewhat skeptically, to check it out. I hadn't read a graphic novel or comic book series ever before and Saga was truly a wonderful introduction. Fiona Staples' art is gorgeous and expressive; I was in awe of her talent. The world of the story is expansive and imaginative and the characters are as varied as the settings they roam in. It's space opera at its finest, pictures and all.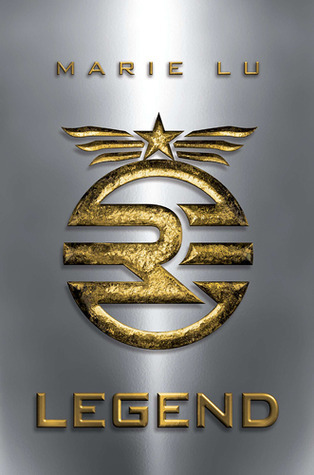 I think this is my favorite YA dystopian book. Ever. The Hunger Games is great, Divergent with its action was fun (until it decidedly wasn't) but this had a solid political story in with the action, multi-layered characters, complicated romances, friendships and family relationships. It explored a lot, and it still delivered a wildly entertaining, action-packed ride.
6. Rosewater (Then They Came for Me) by Maziar Bahari
This one surprised me. I didn't love it right away, but after I was done reading it I felt the weight of its importance to me. It's part a true to life story of political activism in an oppressive place and that alone was fascinating. But it's also a story of personal fortitude and the bonds of one family. Highly, highly recommended.
7. Vicious by V.E. Schwab
This book was a lot of things (can you tell that I value complexity?) It was really funny and really thoughtful. It was morally ambiguous: you change your mind about which characters are good and which are evil. You think deeply about what good and evil mean in a world where everyone everywhere is a mix of both.  And  you explore what power does to the human psyche.
8. Please Ignore Vera Dietz by A.S. King
Couldn't make this list without including at least one A.S. King book. I discovered her this year, and I think her books are some of the best YA literature out there today. I read Everybody Sees the Ants and Ask the Passengers this year as well, but I think Vera was my favorite of her characters and the pagoda the funniest of her magical elements, so this one makes the list. I love the way King writes teenagers; and that she's writing teenagers that are quite diverse; not only in terms of race or sexuality, but in economic and social status. I think she's excellent, and I'm secretly glad I have at least two more of her books to read before I've caught up to her publishing schedule.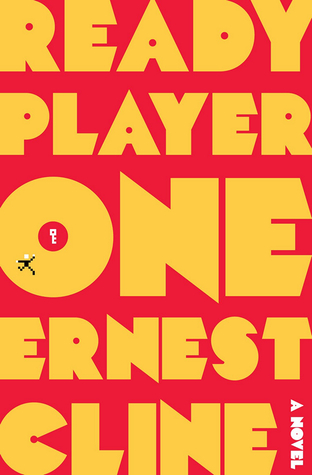 9. Ready Player One by Ernest Cline
This was one of several audiobooks I listened to this year and I don't know if it was WIl Wheaton that made this so much fun, or if it was just the book itself. But I'm thinking it's both. The premise was great, the puzzle of the hunt was so much fun to follow and the awkward, snarky main character was  a joy to read.
10. Stolen by Lucy Christopher
I went into this book expecting one thing and got another. It is composed so well with its single, unreliable narrator and striking setting. I really got absorbed into this story, it was interesting and intense and it really makes you consider complicated and sometimes uncomfortable ideas.