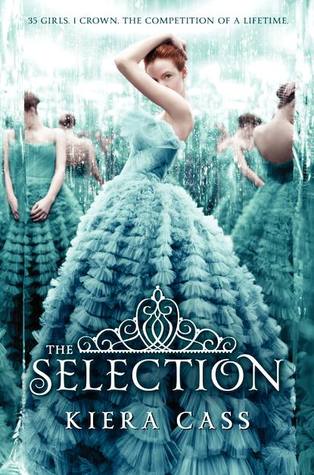 Let me just start off by saying I have never been a fan of The Bachelor. I can always feel my IQ dropping whenever I happen to catch a few minutes of it. So really, I should have known what I was getting into with this, but for whatever reason I thought I might like it anyway. And I did, more than a little, but not a whole lot. Three stars.
Summary
If you haven't heard of it, The Selection is the first book in a YA trilogy of the same name by Kiera Cass. It follows America Singer, a girl living with her family in a post-world war, dystopian, future USA where everyone's profession and status in life is determined by the numbered caste they are born into. America is a Five, a penniless artist. Her secret boyfriend, Aspen, is a Six, a rung lower on the ladder than she. Her life changes dramatically when it comes time for the country's crown prince, Maxon, to host The Selection, The Bachelor-style competition in which girls from all over the land, from every caste, are chosen to compete for his hand in marriage and for the crown.
Review
What makes The Selection decent is its fluffiness. Pretty dresses, attractive boys, long walks in a moonlit garden. Your standard Disney movie stuff. The romantic lines can be eye-roll inducing, but most of them are on or just barely over the line into that particular territory. The book is well paced, the exposition is interesting and informative and the plot moves pretty well also. It is a relatively quick book, without much time or space for dragging scenes.
America has enough smarts and personality to make her likeable in this, though I wonder if Cass tried a little too hard to make her so. I, for one, wouldn't have begrudged her having fun with clothes and make-up, and thought her snubbing them was more off-putting than if she had. But mostly I liked her boldness and her strength. She felt quite real to me, not flat or uninteresting.
Then there's the love triangle, the central point about which the series spins. Aspen irritates the hell out of me, which is really more of a mark of the strength of the book, that something in the plot itself could upset me. Maxon, the ungainly but clearly meant for the job prince, I quite like, surprisingly. He's got an uncertain innocence about him that's pretty endearing. It's actually, also surprisingly, given my frequent hate for them, a pretty good love triangle. America gets into it in a way that's believable, and, while I've guessed who she'll wind up with, I'm not entirely certain who she'll pick. I can tell already, however, (I'm actually 100 pages or so into The Elite as I write this) that the series isn't really ever going to move beyond the romantic plot line. The books are titled after the different stages of the Selection, after all. And I think three books is going to be waaay too much time to spend on this particular conflict.
There is potentially more to the plot in the dystopian aspect of it, but the dystopian worldbuilding isn't that good. The US of A with castes and a king and rebels to endanger him. It's simplisitic and not (yet?) explained well. Why a caste system specifically? What do the rebels even want? Why are there two groups of them? Why "Northerners" and "Southerners"? I just don't get the sense that there's any real fight going on anywhere. The castes are there, they're not fair and that's it. Maxon's portrayed with such a good heart that I get the feeling he'll level the playing field a bit no matter whether or not America sticks around to push him to do it. So then, what else is the point of her choice? Of her continued existence in the heart of her messed up country's politics? Nothing really, so far as I can see right now.
Overall, I enjoyed this. It was just one of those things I enjoyed even though I knew objectively it was not that great. I feel enough like I'm not able to predict everything that's going to happen and that combined with my weird obsession to finish series, even ones I hate, to pick up the other two books, though I think that if you're even a little on the fence about reading this you should probably turn the other way. That being said, if you love romantic drama or reality TV and especially enjoy a drawn out, torturous love triangle, this might just be a good pick for you.